Katalog mocy
                 
Promotion for owners of cars produced until the end of 2003 year - rebate up to 25%
ENGINE TYPES

PROGRAMME VERSIONS

PRICE

AVERAGE GROWTH OF POWER AND TORQUE

 

All turbocharged diesel and petrol engines. Maximum 6 cylinders, 1 computer (ECU)

Economical

980 pln

about 10%

Basic

1500 pln

up to 20%

Individual

2200 pln

up to 30%

Individual plus (+)

2500 pln

up to 30%

Sport

3200 pln

up from 30%

Turbocharged engines with more than 6 cylinders, 2 computers (ECU's)

Individual plus (+)

2800 pln

up to 30%

Sport

4000 pln

up from 30%
1 Complete test on a chassis testbench HPS-03 /min. 4 tests/ - price 150 PLN.
2 Regulating of car on the chassis testbench - 1 our of the work - price 200 PLN.


Versions of programmes offered by our company



ECONOMICAL

We offer this programme for customers, who carry the most about economics and do not need astonishing growth of the power or torque. Changes in stock programme lead to correct economics of combustion and acceleration with a little growth of power up to 10%. Tuning is made only via the diagnosis plug OBD and takes about 30 min to complete. With additional payment you can change this programme for every other that we describe below.

BASIC PROGRAMME
Is an averaged programme done to be able to cooperate with every average model of a car. Such programmes we offer in all our representatives in Poland and abroad. Growth of power and torque up to 20%.

 INDIVIDUAL PROGRAMME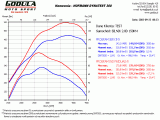 Before starting to work on a programme we take a test drive to acknowledge the driving style of the owner of the car. The tunning programme is done directly on a chassis testbench HPS-03 and projected adequately to the technical stand of a car, the owners driving style and expectations.
We do tests on a testbench before we start tuning of the car. In case of any failures we do payed repairment. We start tuning only when the car is completely efficient. Growth of power and torque depends on the technical stand and raises mostly between 20% and 30%. Smoking limit is not excceded and but can be higher than normal but not more than 10 units in comparison to the stock programme.
We put really a lot of effort to make the car giving maximum joy of your drive without decreasing its durability.
In average we work on every car between 3 and 5 hours, or so long until you and us will be satisfied by the effects.
Every tunning programme is some kind of a piece of art and will never be inimplemented into any other car.

INDIVIDUAL PLUS PROGRAMME (+)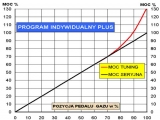 This programme is made in the same way as the individual one, the only difference is joining of two programmes in one - serial with tuning programme.
During the normal, average drive only the serial programme is being used. Activation of tunning programme follows under two conditions: pressing the gas pedal more than 75% with revs of the engine minimum at 1600 RPM.
This programme is constructed this way that the driver decides on his way which programme he wants to use. Everything depends on the situation on the road. Changing of programmes is completely fluent. Growth of power and torque is identical as in the normal individual programme, the only difference is possibility to choose between stock and tunning programme.

SPORT PROGRAMME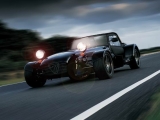 The sport programme is done the same way as the individual one but its aim is reaching maximum values of power and torque. The effects of implementing of this programme are great, but regarding the high parameters of growth there can be a necessity of changing the clutch for a stronger one. Such chlutches are accessible in our offer.
Smoking limit may slightly exceed. Time of realisation 1 up to 2 days.




Individual and sport programmes are made on 16bit emulator OLS300 in real time.
              Even the smallest modification is being immediately checked on the testbench.
Sometimes we make even up to twenty tests to achieve the customers satisfaction and meet his expectations.  In every diesel engine cars we check at first line the smoking limits and do the programme this way not to exceed the smoking limit - that is why cars tuned in our company don't smoke!
The cars are tested not only on a testbench but also during road trials using ACC2002 before and after tunning as well and the parameters are testified with a Power Certificate. Total time of doing a programme with every tests consists 3 up to 5 hours.
In the price of the individual and sport programme are all the trials and tests included!


Top